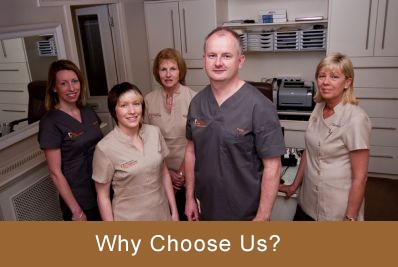 Looking for a dentist in Tralee?
UPDATE 18.05.2020
THE PRACTICE IS ONCE AGAIN OPEN FOR ROUTINE DENTISTRY. 
PLEASE CONTACT US IF YOU WISH TO MAKE AN APPOINTMENT ON 066-7121275 . 
ALL OF OUR STAFF HAVE BEEN FULLY TRAINED TO DEAL WITH THE CORONAVIRUS PANDEMIC . 
THANK YOU .
If you are looking for a dentist in Tralee,  Tralee Dental and Implant Clinic can provide you with the highest  standard of modern dentistry in a relaxed and caring environment.
Led by Dr. Peter Moran and Dr. Michelle Frost, we offer the most up to date treatment available in General Dentistry, Implant Dentistry, Cosmetic Dentistry and Cerec Dentistry.
One of the most long established dentists in Tralee (since 1996), we are conveniently located in the heart of Tralee Town Centre with adjacent parking. We offer a full range of services to Private, PRSI Patients. Unfortunately we no longer  accept medical cards.  New Patients are always very welcome. Please contact us for further information or for an appointment. Our friendly and caring staff will be delighted to assist you in scheduling an appointment.