Are you looking for dental implants? We are one of the leading practitioners  in dental implants in Tralee and Kerry.
Are all your teeth your own? Do you have gaps in between your teeth? Would you like to gain more confidence in your smile? Then, dental implants may be the answer for you, here at our clinic in Tralee.
We have undergone extensive implant training in the Eastman Dental Hospital ,London and we continue to update our skills and knowledge by attending courses and scientific meetings .
We place Nobel Biocare Dental Implants and we also have experience with 3i Biomet and Straumann Dental Implants.
What is a Dental Implant?
A dental implant is an artificial root, made of titanium, which is securely placed into the jaw to serve as an anchor for a replacement tooth. In time (4-6 months) bone grows around the root, and the implant becomes integrated into the jaw bone. A Crown or alternatively a Bridge or Denture is then fitted over the dental implant, matching the colour and contours of the surrounding teeth.
How does it work?
After we assess you, and if you are deemed a suitable candidate, then dental implants are usually completed in 2 phases.
Phase 1
This is the actual placement of the implant. We do this under local anesthetic in our clinic you don't need to be put asleep for this, as there is very little discomfort involved. We use precise, gentle surgical techniques when we do this and we leave the implants bond to the bone (called Osseointegration) for 4-6 months. This helps to ensure a strong and solid foundation for the replacement teeth. During this 4-6 months you obviously don't want to go with a gap in your mouth, so we make you a temporary bridge or denture to cover the gaps.
Phase 2
This involves creating and attaching the new tooth or teeth to the anchored implants, in your jaw. Dental implants can replace a single tooth, several teeth, or complete dentures. Through our discussions with you, we can recommend the best options for you.
Remember!
Each stage is carefully explained to you before and and estimate of costs and timetable for completion of treatment is outlined to you at the assessment stage.
What are the advantages?
There are about 300-400 Dental Implant Systems in the world, but we use really great ones – Nobel Biocare Implants! These implants offer a very effective, safe and predictable solution to the problems arising from missing teeth. Our patients tell us that these implants
Look, feel and function like natural teeth
Have a fantastic appearance
Offer great confidence and quality of life
Offer the ability to chew without pain / irritation.
Dental implants are truly a revolution in solving an age old problem safely and predictably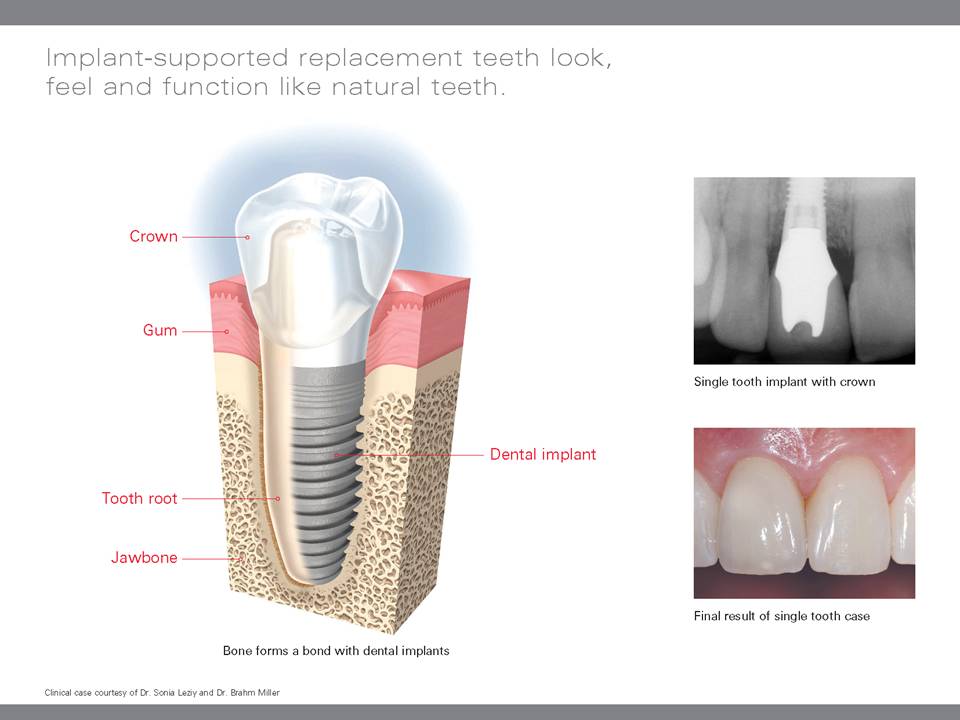 Examples